Najnovije obavijesti
25.09.2020., objavio Marko Paunović u Obavijestima iz radionice
Pozivamo vas na Hobby Kutak Srijedom!
Mjesto:
Kino dvorana ZZTK, Trg žrtava fašizma 14, Zgb
Termini:
Srijede, 7.10., 14.10., 21.10., 28.10., 4.11., 11.11., 18.11., 25.11., 2.12., 9.12., 16.12.
Vrijeme:
18:00 – 22:00
Hobby Kutak Srijedom je zamišljen kao suma besplatnih aktivnosti u prostoru kojeg koristi UMS "Agram" u terminima srijedom navečer. Većina aktivnosti je otvorena za sve, uz neke pogodnosti za članove UMS "Agram" poput skladištenja minijatura (k...
Pročitaj više o "Hobby Kutak Srijedom 2020"
25.09.2020., objavio Marko Paunović u Novostima
NAGRADNA IGRA NA GRUPI Miniature Painters Croatia !
U nešto više od dvije i pol godine, ova grupa je sakupila 250 članova. Hvala vam svima koji redovno pišete, lajkate, sudjelujete u raspravama, natječete se ili samo promatrate iz prikrajka 😊 Kao znak zahvalnosti, organizirat ćemo malu nagradnu igru.
Svi članovi se pozivaju da u grupu postave fotku jedne svoje POFARBANE I BAZIRANE minijature/diorame/biste/vojske/terena uz tag #250MPC. Radovi mogu biti novi, stari, prethodno o...
Pročitaj više o "FB grupa Miniature Painters Croatia dostigla 250 članova"
20.09.2020., objavio Marko Paunović u Novostima
U subotu i nedjelju (19.-20.09.2020.) održana je druga Radionica bojanja minijatura u 2020., a prva pod epidemiološkim mjerama radi spriječavanja Covid-19.
Radionica se održala u Galeriji Vladimira Horvata pri Zagrebačkoj zajednici tehničke kulture na Trgu žrtava fašizma 14.
Radionica se provodila kroz dva dana (cijeli vikend) i polaznici su bili upoznati sa tehnikom NMM - "non-metallic metal". To je tehnika kojom se postiže iluzija metalne površine bez korištenja boje s metalik...
Pročitaj više o "Radionica bojanja minijatura - Non Metallic Metal"
Najnoviji članci
Najnoviji izvještaji s bojišta
Tko smo?
Minijaturisti, maketari, igrači, veliki i mali ljudi koji koji gaje posebnu ljubav za minijaturne figurice i stolno-strateške igre. Na ovim stranicama možete pročitati nešto više o našim aktivnostima, upoznati se s aktualnim igrama u udruzi i našim članovima, te pogledati kako to izgleda kad se veselo društvo prihvati minijatura!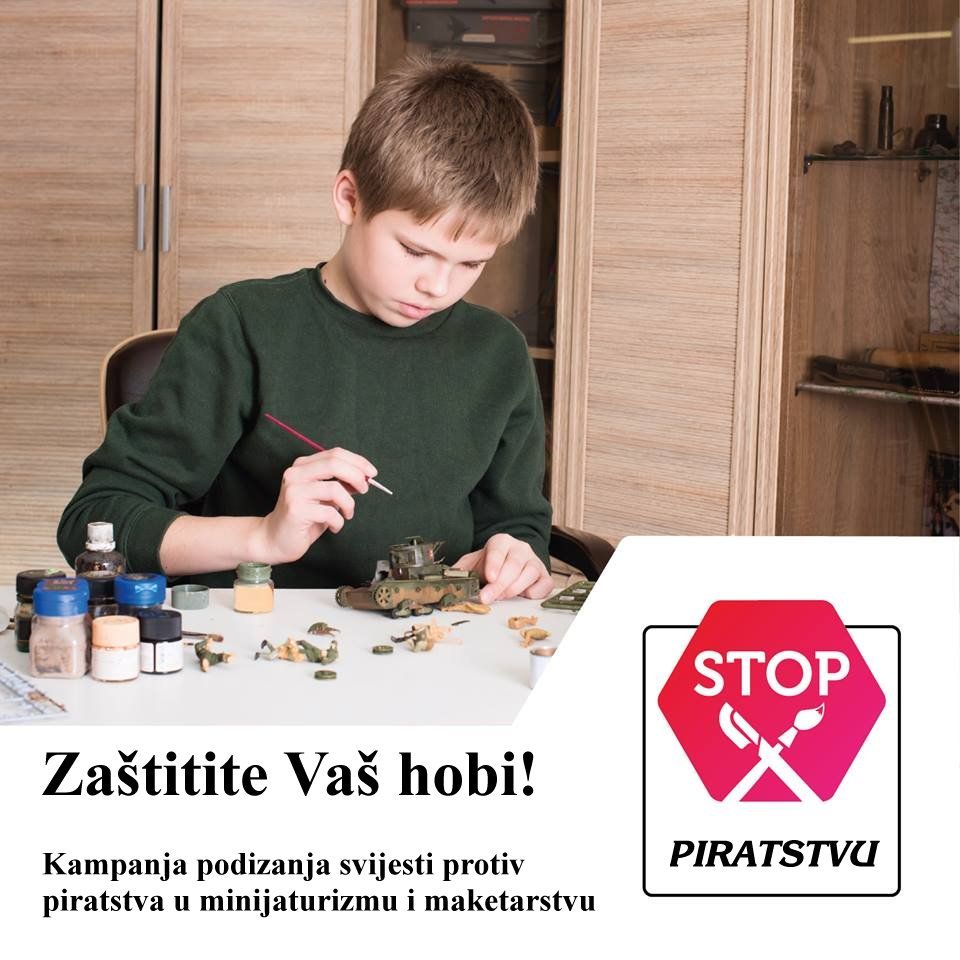 Naši prijatelji i sponzori