Najnovije obavijesti
06.05.2021., objavio Marko Paunović u Obavijestima iz radionice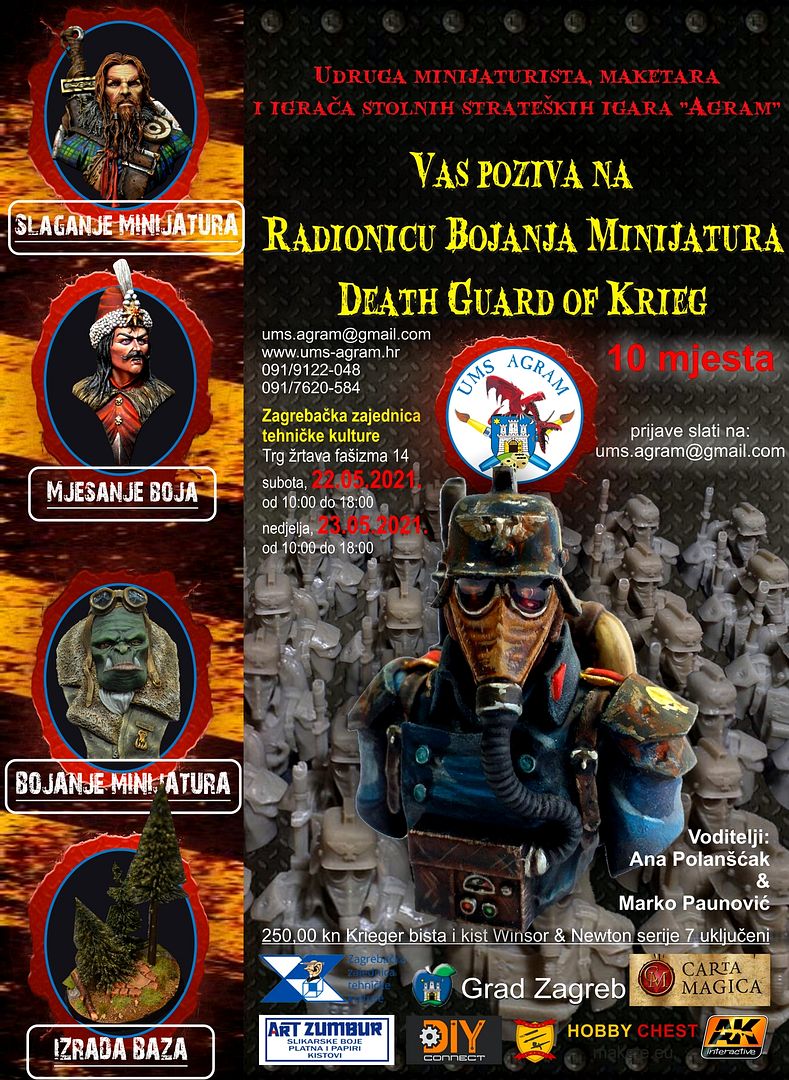 VRIJEME: 22. i 23.5.2021. 10-18h
MJESTO: Zagrebačka zajednica tehničke kulture, Trg žrtava fašizma 14, Zagreb
VODITELJI: Marko Paunović i Ana Polanšćak
SADRŽAJ:
Radionica će se provoditi kroz dva dana (cijeli vikend) i polaznici će bojati bistu Kriegera. Glavni fokus ovih predavanja bit će bojanje kamuflaže, tekstura grubog tekstila, kožnatih tekstura, metala i weatheringa. Time vođeni, voditelji su izabrali prikladnu postapokaliptičnu bistu koju će svi polaznici bojati....
Pročitaj više o "Radionica bojanja minijatura - Bista Kriegera"
Datum događaja: 18.04.2021., 14:41h - 30.06.2021., 23:59h
18.04.2021., objavio Marko Paunović u Najavama i reportažama događanja
DOBRODOŠLI U NOVO NATJECANJE FB GRUPE Miniature Painters Croatia!
I ovog puta ime ostaje isto Spring Painting Contest – kratica ostaje ista :D MPC SPC :D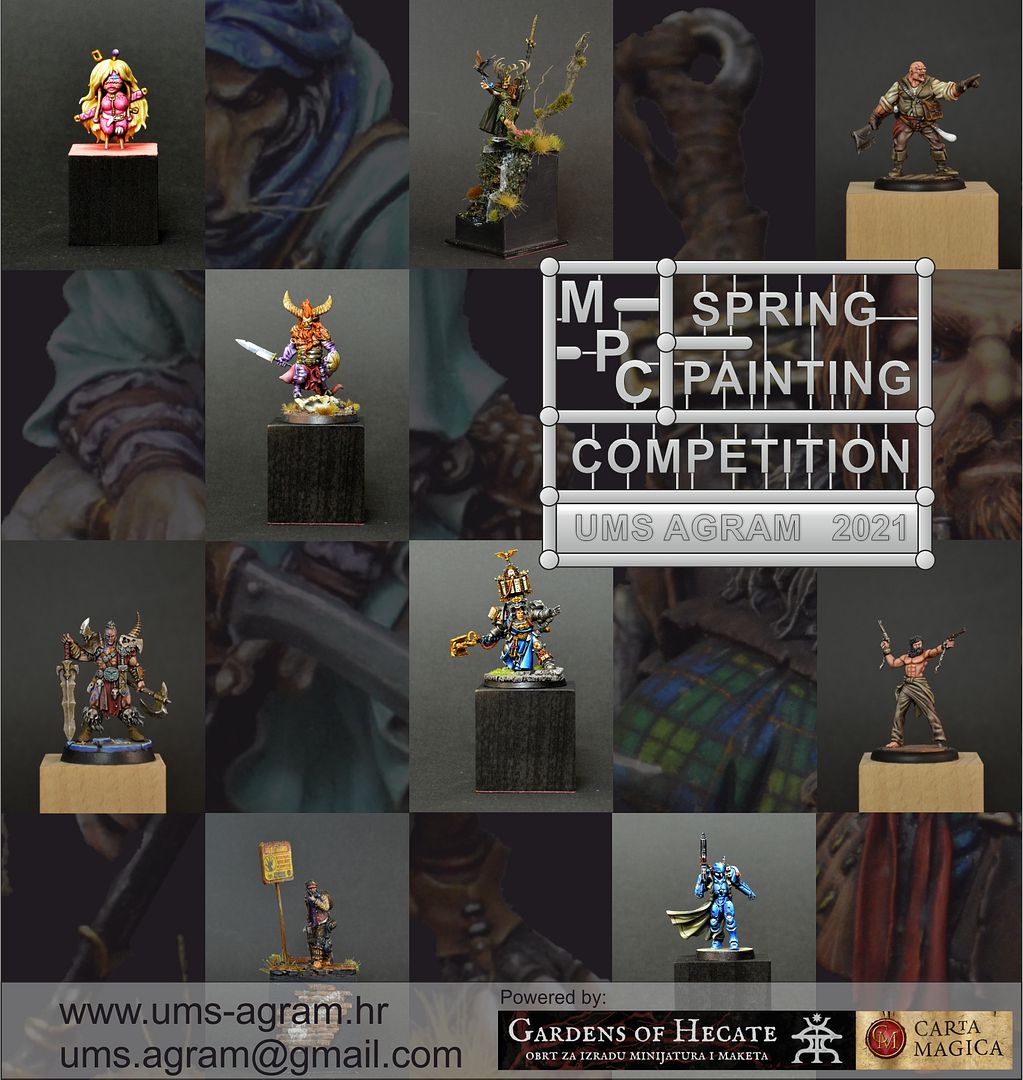 Dobro proučite pravila natjecanja i budite slobodni postavljati (razumna :D ) pitanja. Molimo vas da poštujete pravila natjecanja kako ne bi bilo neželjenih diskvalifikacija jer pravila su za sve jednaka.
>> PRAVILA NATJECANJA! <<
1. Natjecanje je otvoreno samo članovima grupe Miniature Painters Croatia i to za...
Pročitaj više o "MPC Spring Painting Competition 2021"
02.04.2021., objavio Marko Paunović u Obavijestima iz radionice
Pozivamo vas na Hobby Kutak Srijedom!
Mjesto: Kino dvorana ZZTK, Trg žrtava fašizma 14, Zgb
Termini: Srijedama u 2021. (ukoliko epidemiološke mjere dozvole)
Vrijeme: 18:00 – 22:00
Hobby Kutak Srijedom je zamišljen kao suma besplatnih aktivnosti u prostoru kojeg koristi UMS "Agram" u terminima srijedom navečer. Većina aktivnosti je otvorena za sve, uz neke pogodnosti za članove UMS "Agram" poput skladištenja minijatura (koje farbaju u otvorenim radionicama bojanja minijatura...
Pročitaj više o "Hobby kutak srijedom 2021"
Najnoviji članci
Najnoviji izvještaji s bojišta
Tko smo?
Minijaturisti, maketari, igrači, veliki i mali ljudi koji koji gaje posebnu ljubav za minijaturne figurice i stolno-strateške igre. Na ovim stranicama možete pročitati nešto više o našim aktivnostima, upoznati se s aktualnim igrama u udruzi i našim članovima, te pogledati kako to izgleda kad se veselo društvo prihvati minijatura!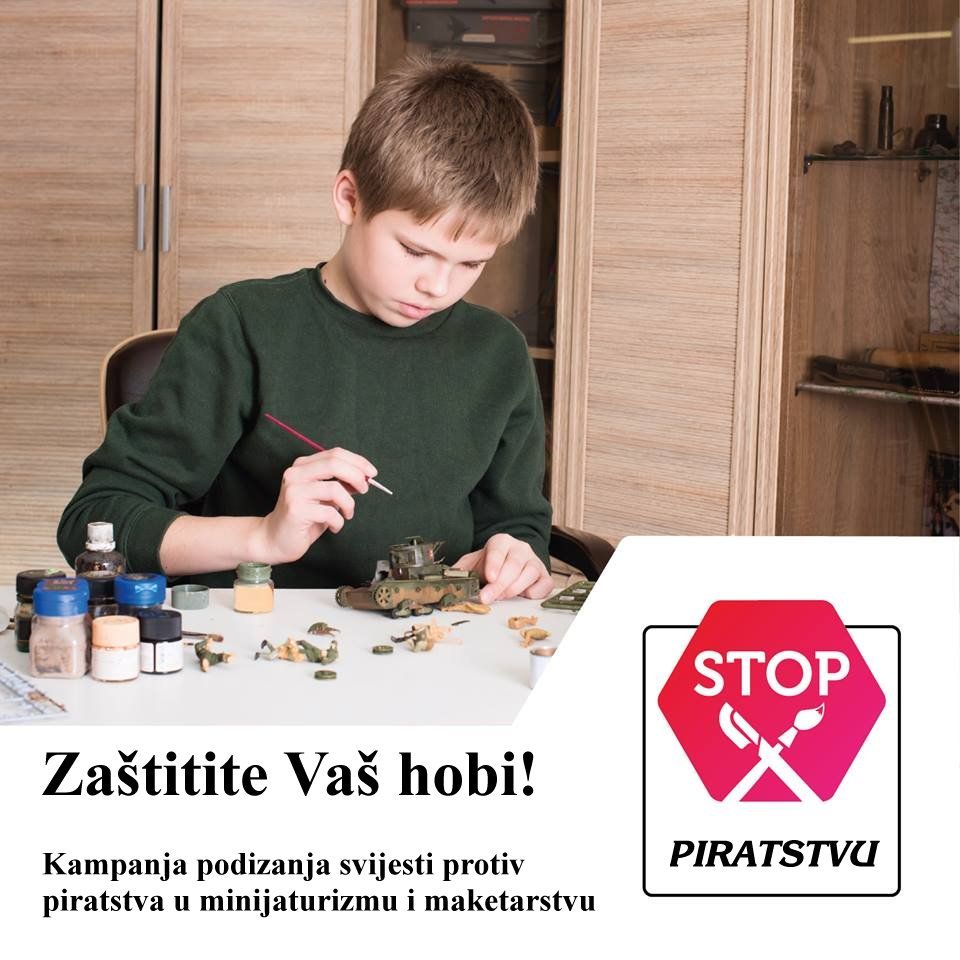 Naši prijatelji i sponzori