Saga o bistekima (dio 1)
Marko Paunović, 10.04.2021.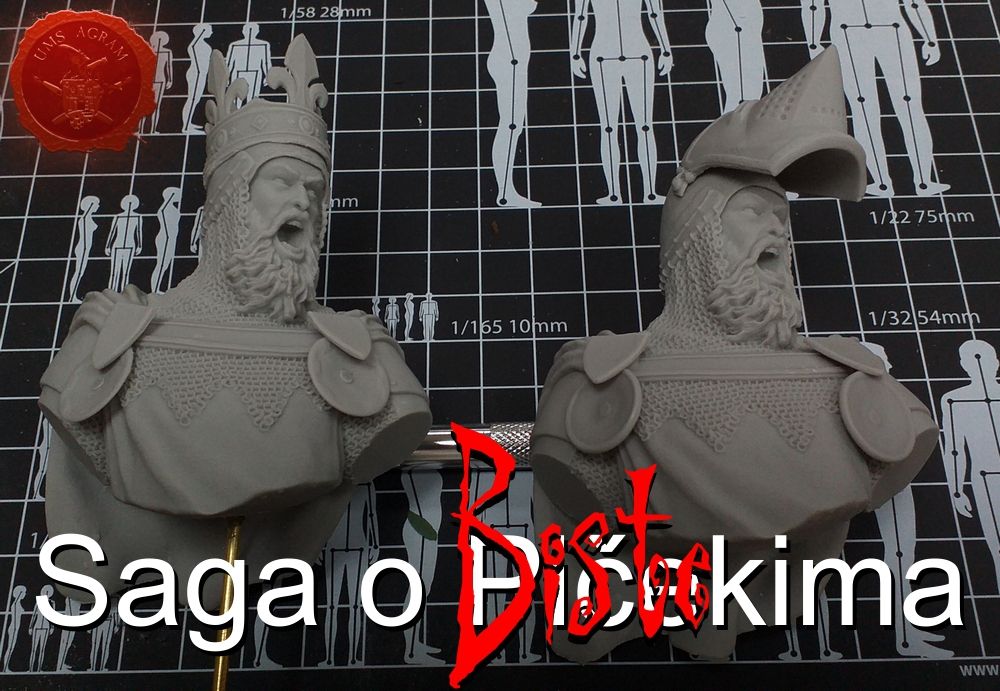 Sjećate se Sage o Pičekima? E pa ovo je naša verzija. Goran i Marko su naši Pičeki i nadamo se da će vas zabaviti svojim pričama o slaganju i bojanju jedne te iste biste u njihovom Admin Challenge-u. Zašto saga? Jer imamo dojam da će njihova rabota potrajati izvijesno vrijeme... Za sve vas koji se pitate, bista koju bojaju je od tvtke Crecy Models i dolazi u obje opcije – kao kralj Ladislav Jagelović i kao Veliki Meštar teutonskog reda Ulrich von Jungingen. Zbog raznolikosti, Pičeki su se dogovorili da će raditi različite verzije.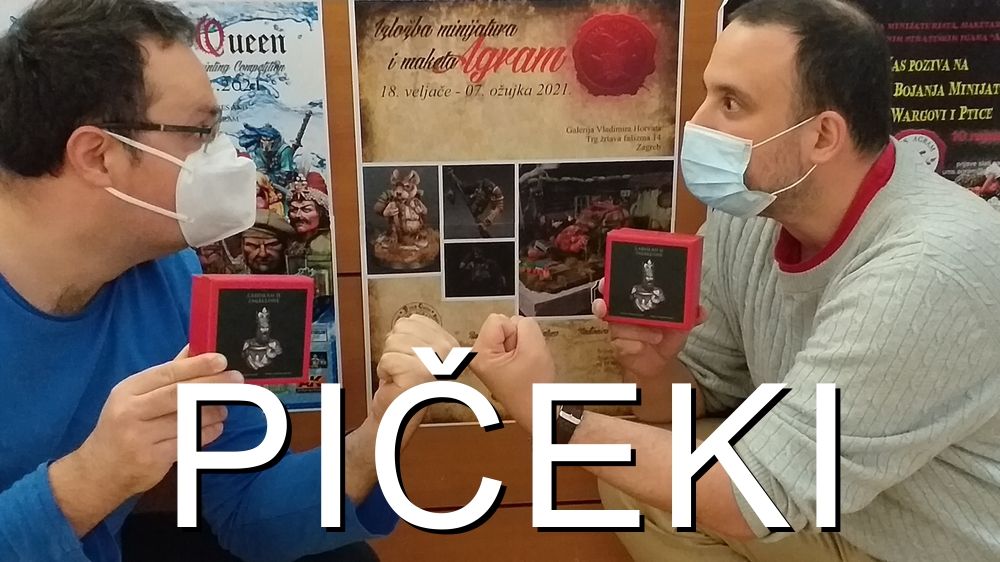 MARKO: Kad mi je na FB izletila objava o ovoj bisti (verzija kralja Ladislava) znao sam da si ju moram piknut... A ni Gorana nije trebalo puno nagovarati. A čim je pristao, rodila se ideja i o novom Admin Challenge-u na FB grupi Miniature Painters Croatia... Dapače, Goran ju je predložio, a s obzirom na (u to doba) smirivanje situacije s Coronom i sve manjim brojevima, odlučili smo raditi isključivo srijedama u terminu Hobby kutka srijedom – motivacija, učenje, druženje, a tko zna, možda snimimo i kakav filmić... Prije svakog ozbiljnog posla, volim posložiti stvari koje ću koristiti (a u ovom slučaju nezakrčenost stola je uvelike pomogla)...

GORAN: U ovom Admin challenge-u sam odabrao svoju bistu složiti kao Teutonskog velikog Meštra. Nažalost, nisam stigao otići u željeznariju nabaviti nekakvu šipku kojom bih bistu pričvrstio na stalak, ali ću se to do idućeg termina potruditi napraviti.

MARKO: Prvo što sam primjetio u ovom setu je da će krunu biti teško odvojiti od "srha" bez oštećenja. Iz nekog razloga, kruna na cijelom donjem dijelu ima "podest" kojeg treba maknuti, a on se čini čvršći od bilo kojeg dijela krune.

Prvo što mi je palo na pamet je bio cirkular na Proxxonici. Međutim, čim sam krenuo, iako na najmanjem broju okreta, rezin se krenuo rastapati od topline, a i vibracije su bile jake.

Stoga sam odustao od te opcije i probao sa jako oštrim skalpelom. To je uspjelo uz jako puno pažnje da se ne sili oštrica kroz materijal.

GORAN: Rad na bisti sam počeo tako što sam krenuo sa nekoliko vrsta skalpelskih oštrica skidati srhove i artefakte od onog što sam pretpostavio da je prototipni odljev, koji je, isto tako pretpostavljam, napravljen 3d printanjem u smoli. Zatim sam prionuo skidanju velikog srha na plaštu biste, što mi je i oduzelo najviše vremena, jer je riječ o nepravilnoj površini sa puno krivudanja i neravnina.

MARKO: S obzirom da je Goran opisao skidanje srhova, ja ću taj dio izostaviti. Zadnje što sam učinio je da sam izbušio rupu na bisti za šipku i istu takvu rupu na provizornoj bazi.

Ideja je da bojanje odradim s ovom bazom – pa ak ju zaprljam koga briga, a kad završim da ju postavim na pravu bazu (plinth).

GORAN: Na kraju sam zalijepio držače plašta i ukrasne štitove, te vizir od kacige, koji se odlijepio čim sam figuru pohranio u kutiju, tako da ću morati smisliti neko trajnije rješenje za pričvršćivanje istog.


Najnoviji članci
Najnoviji izvještaji s bojišta