Postapokaliptični taksi – dio 1
Dalibor Čavić, 04.02.2021.
U Muelleru sam za 25kn kupio Majorette VW Bubu u mjerilu 1/64 te sam se odlučio na njenu konverziju. Prvo mi je na pomisli bila nekakva Mad Max verzija s mitraljezima, šiljcima, rogovima i lubanjama, ali onda sam dobio ideju da ju pretvorim u taxi iz postapokaliptičnog razdoblja. Izgled kupljene Bube možete vidjeti niže.
Ponekad volim na Youtubeu gledati likove koji restauriraju male autiće. Iskustvo gledanja prenio sam i na ovu konverziju. Krenuo sam s rastavljanjem autića. Neke dijelove sam promijenio, a neke odbacio u daljnjem postupku kao nepotrebne.
Odlučio sam da neću u potpunosti skidati boju s metalnog dijela. Inače bih to radio skidačem laka za nokte i, kasnije, čeličnom vunom. Umjesto toga samo sam na mjestima brusnim papirom i čeličnom žicom skinuo dijelove boje i time simulirao oštećenja karoserije.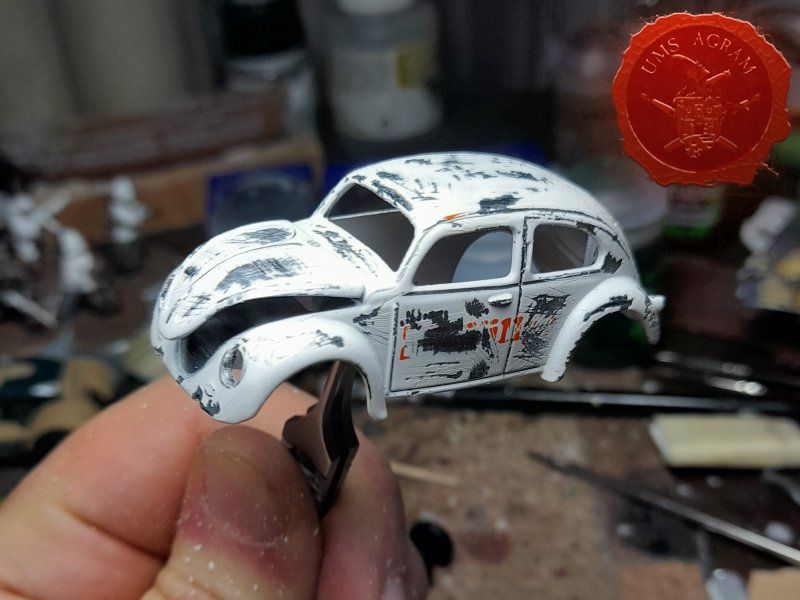 Karoseriju sam obojao u žuto akrilnim bojama (Vallejo Model Color Sand Yellow + Vallejo Game Color Gold Yellow), a od stare kreditne kartice izrezao sam elemente kojima od kojih sam načinio modifikacije. Krovni nosač, zaštitu zadnjih kotača i vjetrobranskog stakla, te ojačanje lijevog i desnog boka. Umjesto prednjih bočnih i stražnjeg stakla te na mjesto farova stavio sam mrežu za komarce. Na slici se može vidjeti kako sredinu krovnog nosača nisam izradio u cijelosti. Već tada u planu je bila staviti nekakav teret na krov pa se taj dio nosača ionako ne bi vidio.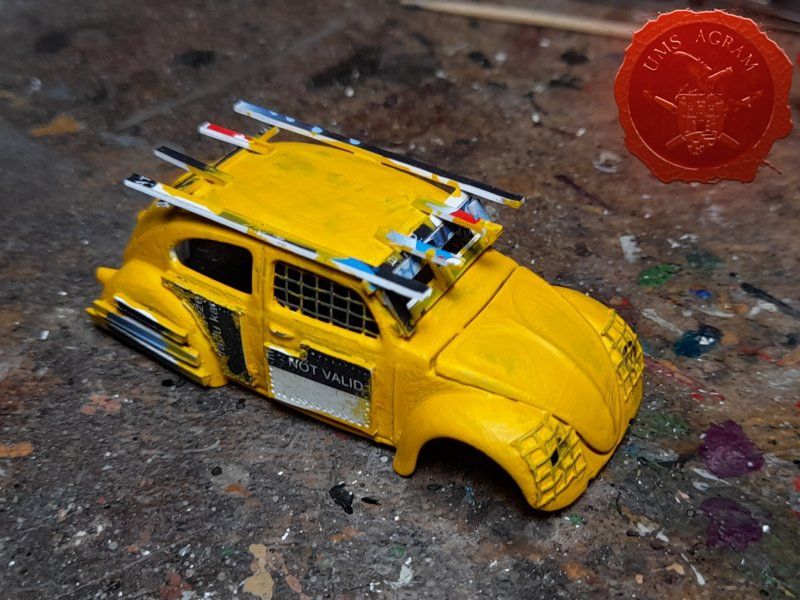 Na Slici 5. mogu se vidjeti svi dodani elementi obojani u metalnu boju (Vallejo Model Color Steel), a na Slici 6. prikazano je kako sam na cijelu karoseriju aplicirao wash (GW Agrax Earthshade).
Na prednjem i stražnjem poklopcu obojao sam ukrase tirkiznom bojom (Army Painter Hydra Turquoise) kako bi razbio monotoniju žute. Nakon toga krenuo sam simulirati chipping i hrđu. Za to sam koristio Flat Black (Scalecolor) te Acrylic Rust Set (Secret Weapon) koje sam nanosio komadićem spužvice. Na taj način dobio sam nepravilne uzorke raznih nijansa hrđe. Zatim sam crnom i tirkiznom na bočnim vratima napisao riječ "Taxi". Rezultat se može vidjeti na Slici 7.
Najnoviji članci
Najnoviji izvještaji s bojišta