Postapoc taxi – part 1
Dalibor Čavić, 4

th

February 2021
In Mueller, I bought a Majorette VW Beetle in 1/64 scale for 25kn, so I decided to convert it. At first I thought of some kind of Mad Max version with machine guns, spikes, horns and skulls, but then I got the idea to turn it into a taxi from the post-apocalyptic period. You can see the look of the purchased Beetle below.
Sometimes I like to watch guys restoring little cars on Youtube. I transferred the viewing experience to this conversion as well. I started disassembling the car. The components are shown below. I changed some parts and discarded others in the further procedure as unnecessary.
I decided not to completely remove the paint from the metal part. Otherwise I would do it with a nail polish remover and, later, steel wool. Instead, I only removed parts of the paint in places with sandpaper and steel wire, thus simulating body damage.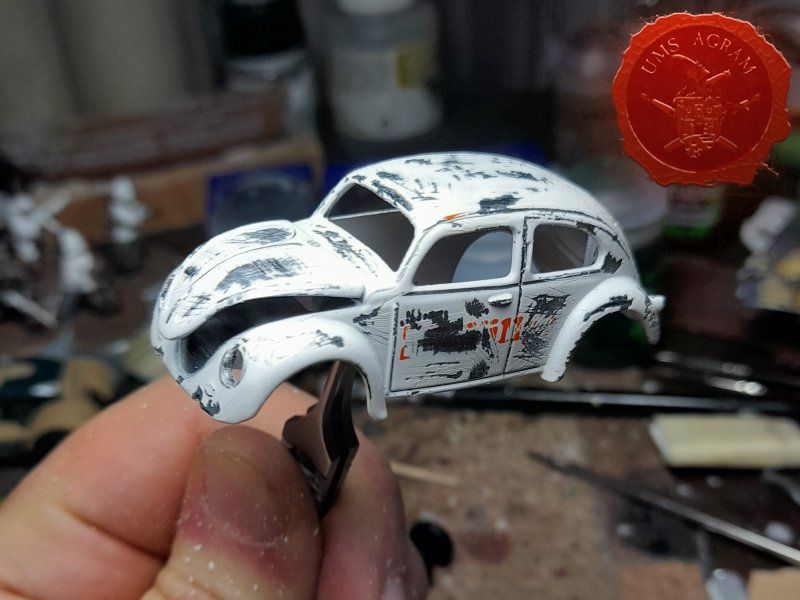 I painted the body in yellow acrylic paints (Vallejo Model Color Sand Yellow + Vallejo Game Color Gold Yellow), and I cut out some elements from an old credit card. Roof rack, rear wheel and windshield protection, and left and right side reinforcement. Instead of the front side and rear windows and in place of the headlights, I put a mosquito net. The picture shows how I did not make the middle of the roof rack completely. Even then, the plan was to put some kind of load on the roof, so that part of the girder would not be visible anyway.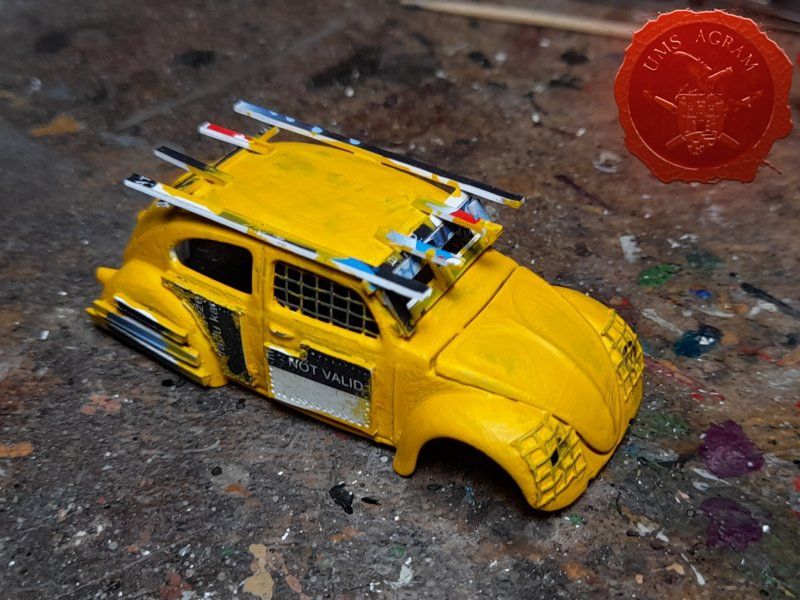 Figure 5 shows all the added elements painted in metallic paint (Vallejo Model Color Steel), and Figure 6 shows how I applied wash (GW Agrax Earthshade) to the entire body.
On the front and back cover, I painted the decorations with turquoise (Army Painter Hydra Turquoise) to break the monotony of yellow. After that I started to simulate chipping and rust. For that I used Flat Black (Scalecolor) and Acrylic Rust Set (Secret Weapon) which I applied with a piece of sponge. That way I got irregular patterns of various shades of rust. Then I wrote the word "Taxi" in black and turquoise on the side door.
Latest articles
Latest battle-reports