Comparison between a branded and DIY wet palette
Dalibor Čavić, 5

th

October 2021
I recently bought Green Stuff World's wet palette because it was very affordable compared to the competition, and it was also available in Croatia, ie I didn't have to order online. Considering that even being available locally, it cost relatively a lot compared to the "do it yourself" palette, I decided to do a comparative test.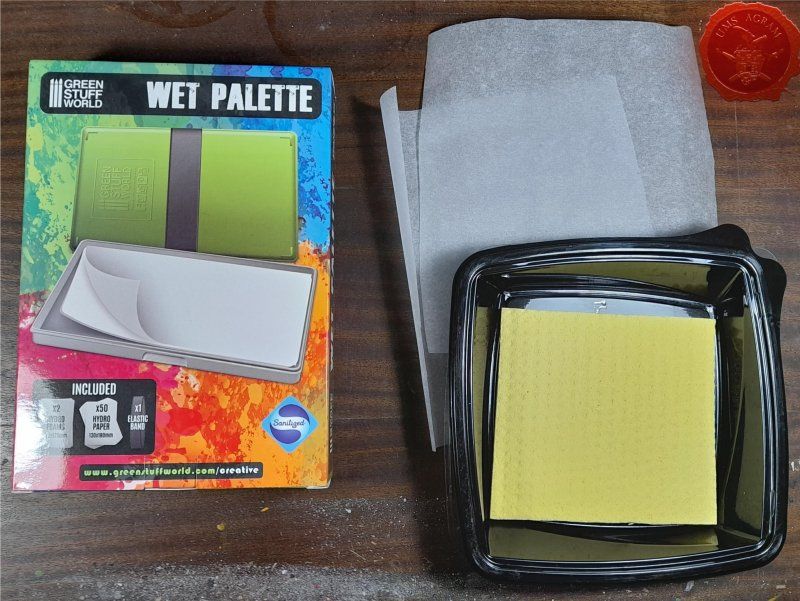 To make a DIY wet palette, you need baking paper that can be purchased in almost every neighborhood store for about 10kn. The paper I bought was 8m x 38cm. So, you can pull out (if you are a little careful and cut neatly) over 130 papers for your wet palette (dimensions od GSW are 12.5 x 17.5 cm). You also need a sponge to wash the dishes (trulex, vileda, spirak). You can also get it at your local store. I paid 5kn for 5 pieces again. And finally, you need a box with a lid. The choice is huge, plastic boxes of chocolates, lunchboxes, tin biscuits, etc. I used a box of salad and I calculate that the cost is 0kn.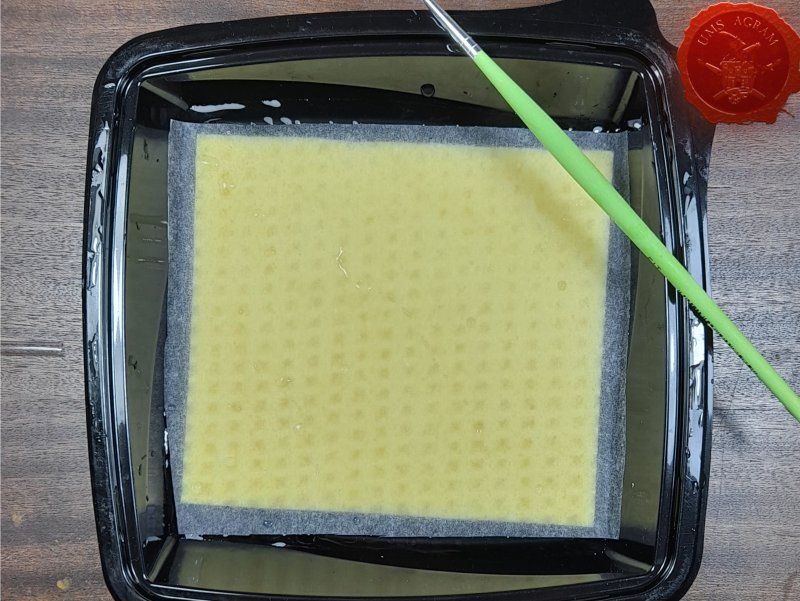 GSW wet palette comes with 2 sponges, 50 sheets of paper, a plastic two-tone box and an elastic closure tape. It was bought at Carta Magica and cost me 110kn. Additional sponges and paper can be purchased at a price of about 25kn each (2 sponges and 50 papers in a package). But even these are quite ok prices when compared to the competition. Redgrass Games's Everlasting Wet Palette - Painter Lite is identical in content to GSW's and is slightly larger in size but costs € 25 (+ postage). Army Painter's Wet Palette is also the same in content and is a few cm higher, but the price is € 22.5 (excluding postage).
I will not describe the preparation of a wet palette. That is not the intention of this article, and there are dozens of tutorials on Youtube. I will just point out that I used distilled water and several color brands (Vallejo, Scalecolor, Warpaints and Ammo by Mig).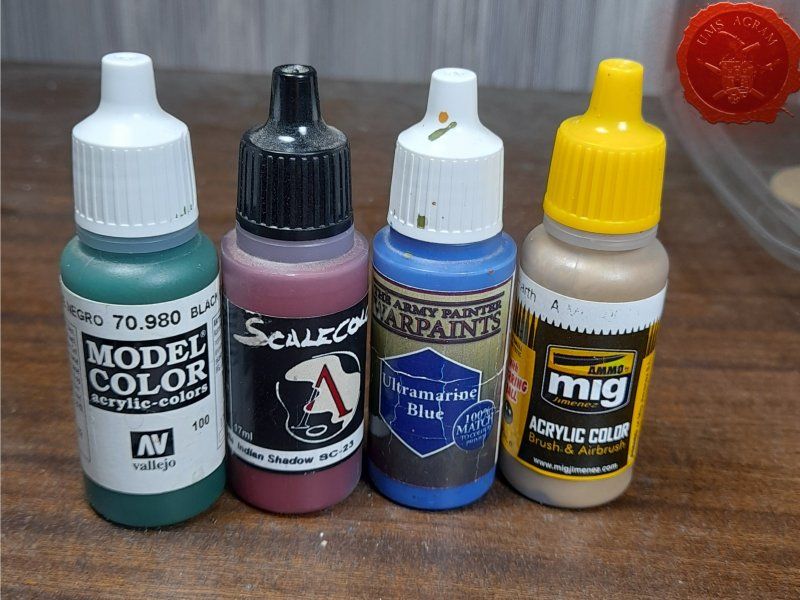 After the palettes were prepared, I applied a drop of each color on them and made a few mixes. Personally, I didn't notice a particular difference between these two palettes when used. Using both was easy and convenient. Then I closed each pallet and left for about 36h. After that time, the paints were still equally usable. The only difference is that one drop of paint on the DIY palette has dried. I guess GSW paper leaks moisture better.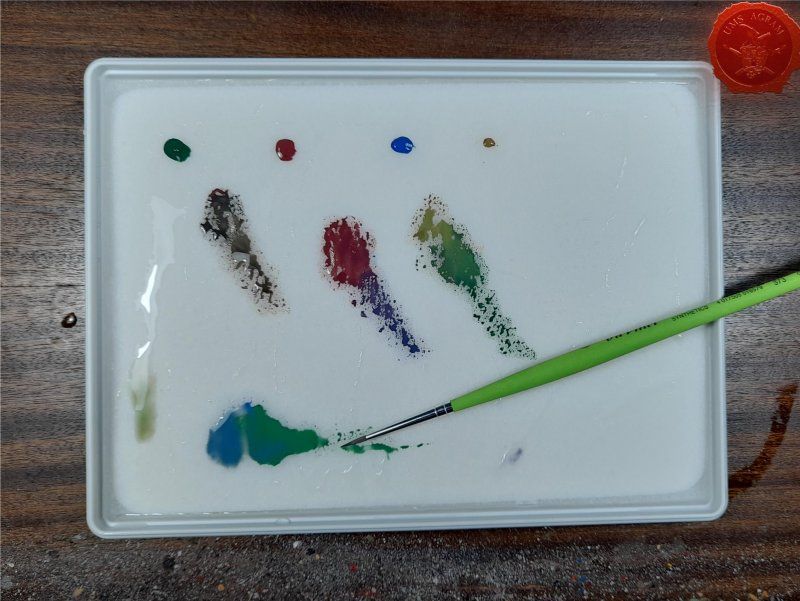 Decide for yourself which palette (branded or DIY) to choose. I can only list the advantages and disadvantages from my point of view:
GSW Wet Palette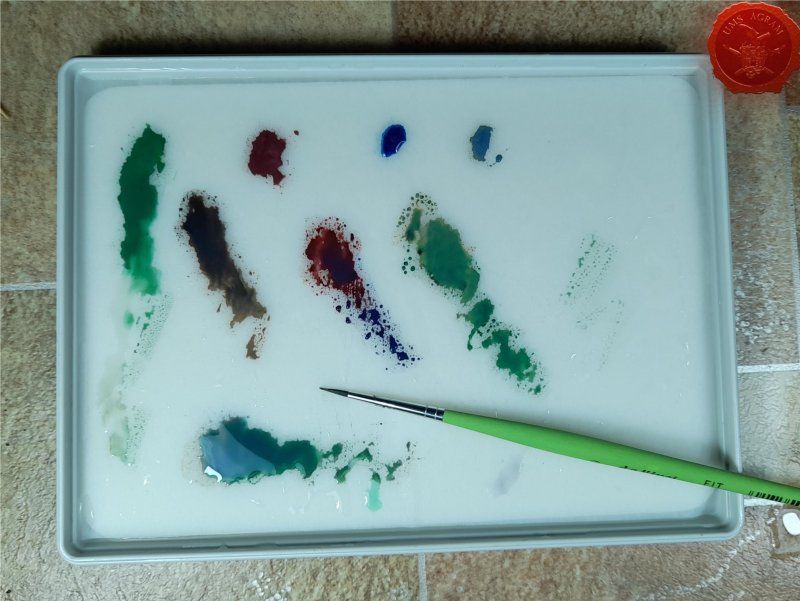 Benefits
Custom-cut papers and sponges come with the branded palette. Therefore, its preparation is very quick and easy. The sponge is white so it does not affect the perception of the colors you are working with. The design is definitely nicer than a plastic box of chocolates.
Disadvantages
Higher price compared to the DIY version. If your palette is too small for a larger version you will set aside even more money. Refill materials are available only in specialized (hobby) shops. And when you buy one brand, the refills of other brands are unlikely to match in size.
DIY palette
Benefits
Very low price. If everything was put on paper, with this version of the wet palette you will pass about 10 times cheaper. You are not limited by the size of the pallet by choosing the right box. Refill materials are available at almost every local store.
Disadvantages
Longer preparation because you will have to cut the paper and sponges to the size of the box yourself. Sponge cloths usually come in colors (yellow, green) which can affect the perception of the color you mix on a wet palette. White sponges are a little harder to find so some people use plain paper towels instead of a sponge. I also found tips that baking paper must be coated with silicone, ie it must not be waxed. I did not find any baking paper on our market that declared whether it was siliconized or waxed. So, you will need a little luck to find a paper that suits you in terms of characteristics.
My position, which I cannot defend with strong arguments, is that I would still choose a branded palette. If finances were a big problem, I would try to buy refills (paper and sponges) for around 50 kuna and put them in a box of similar dimensions. Of course, others may have completely different experiences and cannot be generalized based on one experiment. In the end, it seems that the choice is a matter of personal preference.
Latest articles
Latest battle-reports
17

th

November 2021, GW - Warhammer 40.000, and Nino Marasović (Space Marines)
27

th

October 2021, GW - Warhammer 40.000, Borna Pleše (Space Marines) and Josip Strnad (Space Marines)
20

th

October 2021, GW - Warhammer 40.000, and Domagoj Krpan (Dark Eldar)