Our friends and sponsors
Without the support of our friends, donators and sponsors we couldn't manage what we do.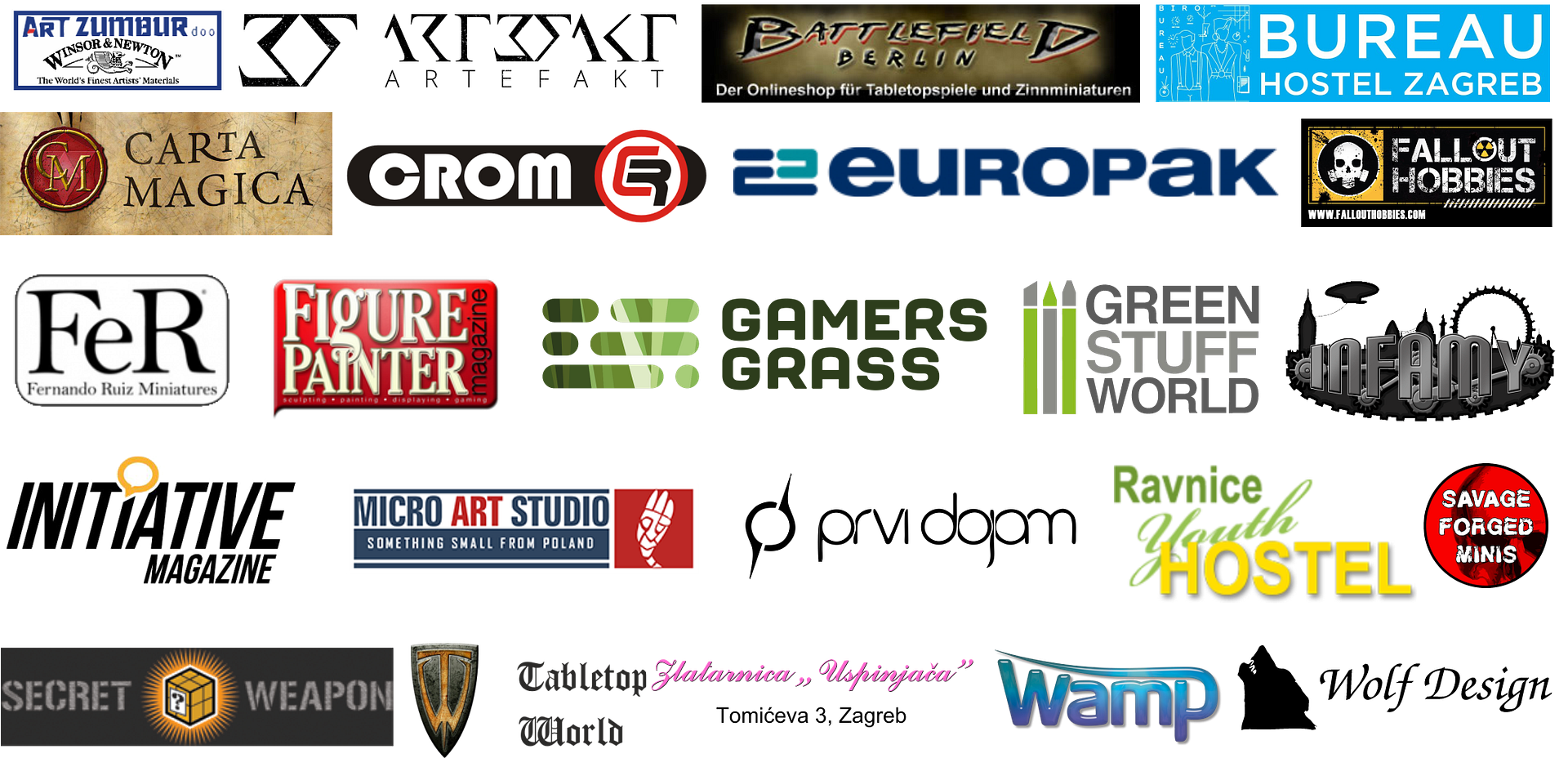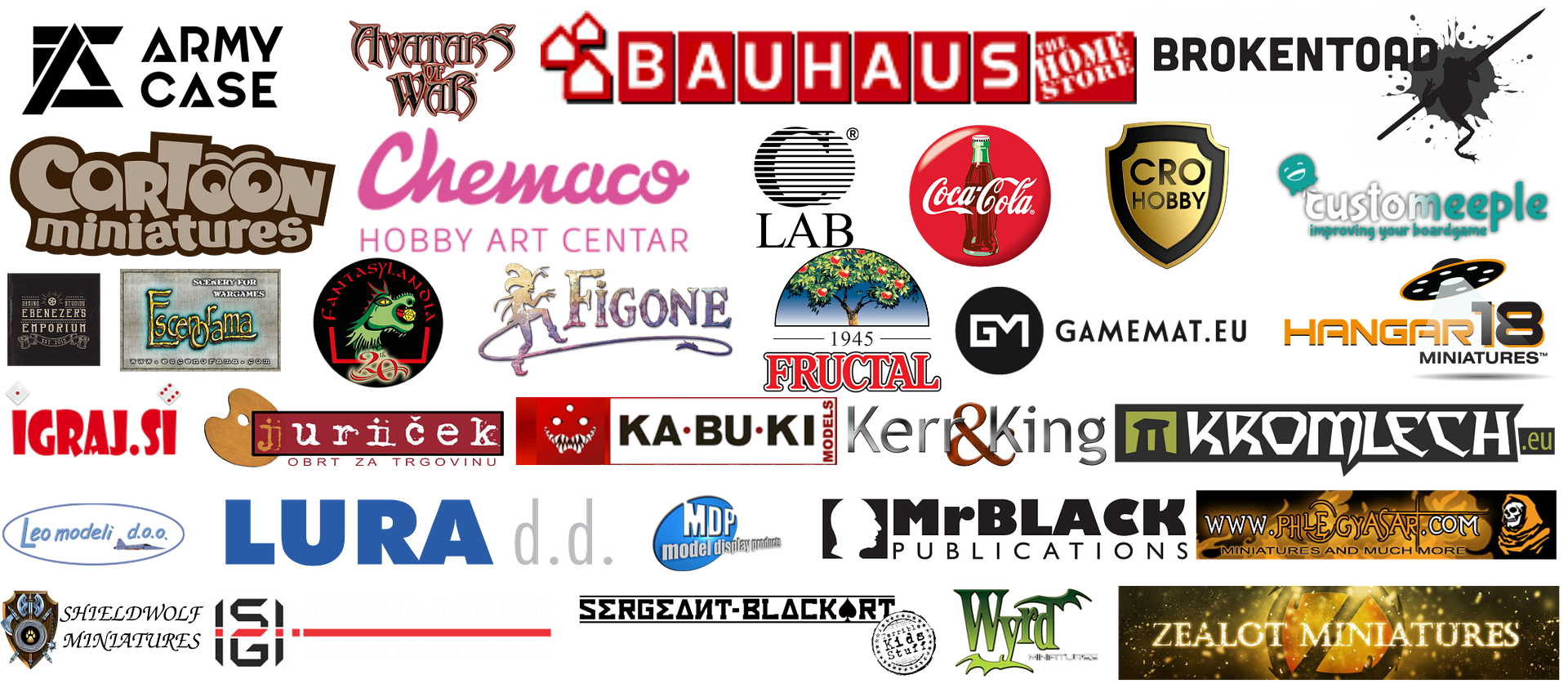 Sponsors
We stock world famous Winsor & Newton brushes and other painting materials.
Artefakt is a young artist organization founded late 2015 in Zagreb Croatia. We are an organization aimed at producing concept, character and creature art as collectable figures and for the entertainment industry. We are bringing together digital modelling, 3d printing and traditional sculpting as well as painting methods as we conceptualize our models digitally having the freedom of the virtual media but at the same time produce series of cast sculptures. We are trying to bring together the best of both worlds in our production methodology. Our plan is to produce various collectable figure sin a unique style and make a recognizable brand. We are also available for various commissions creating concept art in various digital and physical forms as well as bringing your concepts to life as 3d models, renders, figures etc.
Avatars of War supports The 9Th Age project, with the creation of compatible miniatures and printed promotional material, as well as the future printing of rulebooks and army books for the wargame Fantasy Battles: The 9Th Age™! We believe that The 9Th Age™ has arrived to change the fantasy miniatures industry as we've known it, where creating miniatures & printed material to support the mainstream fantasy wargame will not be anymore exclusive to one company, but open to independent miniatures companies.
On 11.12.2021 Back to Basics become a offical trademark of Miniatures d.o.o. They started with the first workshops at Elementary Schools and Secodary schools in Slovenia. The number of circles has been increasing over the years. On average, more than 100 children regularly attend the school once a week.
Beside the Online Shop we also run a Store in Berlin, Germany. Here you can have a look at all the nice miniatures in real, play games and talk to other gamers.
Battlefield Berlin
Gneisenaustr. 43
10961 Berlin
Tel: 00493045088708
Openingtimes:
Mo, Wed, Fr: 10-19
Tue und Thu: 10-20
Sat: 10-18
BrokenToad grew from the belief that it is possible to have high quality hobby products at affordable prices. To achieve this we try to go the extra mile to discover what hobbyists actually want rather than to dictate what we think they need and with over 20 years' experience in the miniature hobby world we feel we have the first-hand experience to know what a hobbyist expects and deserves from a product. We love our little niche community of hobbyists and hope we that we can help to make it a slightly more pleasant place to spend time doing what we all love.
The only shop in Croatia where one can buy GW and Battlefront products.
Cartoon Miniatures is a small team devoted to create awesome miniatures. Our aim is to produce high qualite, intresting looking figures for hobbyists and painters
Fantasy & Beer Pub for lovers of beer, whiskey, good brandy, good coffee and even better cocktails, for all who love rock, country, punk and ska, for all who love fantasy and SF, for lovers of film and literature. Enjoy the best hot chocolate in town!
The models on the crecymodels catalog are assembly kits to be assembled and painted for an adult audience. It is possible to have the model painted, in this case the price will vary from the type of painting chosen, it is also possible to have the models both in the case of the figures and in the case of dinosaurs with customized liveries. Their models are made of white metal (figurines) and resin (dinosaurs). At the cost of the model you must add the cost of shipping that will vary from the weight and place of destination.
Firm from Cakovec that specializes in selling models and modelmaking materials. UMS "Agram" members have a standing 10% discount.
Professional tools like Proxxon.
Customeeple are Celacanto, Cabalier and Tayga, 2 graphic and web designers and a podcaster and history teacher, but mostly 3 avid boardgame players that together decided to create a new website that could join both their professional profile and the games that they play. They are 3 active people with a lot of experience in the professional world and we want to transform this experience to improve your game life. Their philosophy its to keep our working process as simple and fast as possible to ensure efficiency and easiness to their customers and also themselves.
I'm Daniele. I'm a sculptor. I sculpt miniatures for passion, and I find themselves a way to express my personal art. Through them I vent my ideas and my imagination. All The miniatures are limited and numbered, taking care of every detail of the entire creation process. I hope that the love and passion that I use to create each individual piece will be source of fun and happiness for you. :-) My art site is dedicated to all people who love a miniature's world, and consider them as a pure art as it is. Happy Painting and Sculpting
Professional material for building scenery from Italy
3d print, silicone molds, resin casting, electronics, almost everything you can DIY
Down below a forgotten crooked city, amongst smog ridden streets and rat infested gutters, you may come across our peculiar little shop. Our craftsmen, blacksmiths and alchemists work hand in hand, day and night to craft some of the most fascinating objects for you to enjoy.
We specialise in the creation of gaming accessories for miniature war-games. From playing cards to terrain we create everything a gamer needs to further enhance their gaming experiences. So enjoy your visit and feel free to contact us should our shop not have what you are looking for.
Since 2007 Escenorama design and manufacture scenery kits, bases and accessories to decorate wargames. All our articles are made in high quality resin and need to be assembled and painted.
Fallout Hobbies is starting with the production of high-end decals using an advance new printing process no other hobby store is using yet. But that's just the beginning. Over the next few years they'll be offering so much more, from aftermarket finishing products to highly stylized new war-game terrain and possibly electronics kits.
Figone is a company run by Jeremie Bonamont Teboul. It creates dramatic figurines for fantasy, sci-fi and historical settings in 32mm, 54mm, 90mm and have a gorgeous bust range. All are high quality figures for collectors, sculptors and painters. They also publish manuals and books and DVDs about painting and sculpting.
Figure Painter Magazine is a new independent magazine dedicated to sculpting, painting, displaying, collecting and gaming with miniature figures from all genre's. The magazine will have details on new releases, reviews, interviews with the industries top painters and sculptors, show reports, tutorials and a user gallery so feel free to upload you miniature images for submission and the best new image each month will receive a free resin plinth courtesy of Model Display Products.
Gamer's Grass presents a wide variety of grass tufts in several colors, blends, shapes and sizes. They hope to offer a very easy and fun way to add realistic vegetation to your models or scenery. Their tufts very easily pop-out from the plastic sheets where they come from and are ready to use.
Gardens of Hecate is the first craft from Zagreb that offers services of sculpting, makinga and painting miniatures and tabletop terrain for wargames, board games and RPGs.
Modelling materials, special tools and other resources for sculptors and steampunker enthusiasts who love creativity above all. Discover us!
This blog aima to supply a review service for available miniatures and related products that is as honest and constructive as buyers and manufacturers deserve. Without honesty a customer can have too high an expectation for a product and a manufacturer cannot grow and improve. Their Facebook page will be updated when new content is created too so give it a follow please. What they will not do however is review miniatures without intellectual property rights. Using someone else's work to produce something for commercial gain is something they don't agree with as all people involved in the creation and sale of a miniature should benefit in some way and without concept art and ideas many miniatures would not exist.
Hangar 18 Miniatures is an online boutique store for miniature painting and modeling. The store is run and managed by a group of avid miniature painters and modelers with over 50 years of combined experience. We share the same vision: providing the best quality models, painting supplies and modelling tools that we personally use and recommended. You may not find many options of painting and modeling tools here simply because we hand picked and tested every single item. If we don't feel 100% confidence on the tools and/or models, you won't see it on this site. "By Modelers For Modelers," That's our guarantee.
A newly-renovated, modern designed hostel with full service operating 0-24/7 allows you to relax and rest in every sense of the word. Have a shower, surf the Internet, use the kitchen facilities, order breakfast, enjoy a cup of coffee on the balcony or in our bar, make new friends from the whole world and at the same time save money; the prices are really fair! The hotel is located in the very centre of the imaginative and playful Zagreb, only a few minutes from the main square Trg bana Jelačića, in a quiet an peaceful yard isolate from traffic noise.
Infamy Miniatures is a new company producing high quality 32mm scale resin models. From concept to sculpt, casting through to painting, some of the very best artsists and craftsmen around ensure that each Infamy miniature is totally bloody awesome. Alongside the miniatures, Infamy Miniatures are developing the world of Infamy and a skirmish game set within it. Opportunistic rabble rousers, crime lords, kingpins and undesirables battle for supremacy in a steampunk styled alternative London that you can be be a part of.
Initiative magazine is a new digital publication focusing on boardgames, RPG's and Skirmish and War-games and the miniature figures that accompany them.
The ONE ring!
JustPine terrain was created with the idea of ​​a group of friends who wanted to play their games at the next level. In 2018 they began printing terrain that were used at their table games. In 2019 they are starting to realize the idea of ​​setting a new standard in the tabletop world.
Kabuki Models is a multi-national, widespread company that produces high quality miniatures and models for hobbyist and collectors of tabletop and miniature games.
We passionately believe in the hobby and are totally committed not only to the production to the very finest wargames scenery, terrain and accessories but to deliver them to the gaming community at a very affordable price.
We are constantly striving to improve our products either through better methods and techniques or sourcing even better quality materials.
Originally started in a garden shed our 'Voodoo Lounge' Production Facility continues to work flat out to provide you with the fastest (a relative term when dealing with zombie workers) possible turn round on your orders. We aim to despatch within 2-3 days of receiving payment dependent on stock levels and items, some of our catalogue is cast to order.
Established in 2010, Kromlech is a company from Poland producing models, bits and modelling accessories for gamers and collectors. Their products are cast in best quality resin and they make every effort to deliver only flawless casts to our customers. If you are looking for beautiful centerpiece models or just need some conversion bits then you have to check their complete range of products at www.bitsofwar.com.
In their webstore you will find lords of demon hosts, orc hordes, agents of imperium, human warriors , superhuman legionaries and more.
Zagreb's friendliest hobby store!
Magic Omens is a store specialized in TCG, Boardgames, Tabletop wargames and accessories. It was founded by longtime players and geeks with the intention of bringing everyone closer to the magical world of games and entertainment. Knowing what matters to people, they strive to provide everyone with the best prices, a large selection of products and excellent service. Agram members have a 10% discount on the Games Workshop range, and a 5% discount on all other products on offer.
Visit them at their address: Ilica 387A, 10000 Zagreb, Hrvatska
Follow them on their Facebook i Instagram pages for more news.
Kontakt za Magic Omens: e-mail: contact@magicomens.com mob: +385 91 982 0250 Whatsapp: +385 91 982 0250
Scenic supplies for the demanding modeler.
Model Display Products is an online store that features among it's own series of plinths and bases the following:
Miniatures & Busts
Modelling Tools
Modelling Accessories
Gaming Bases & plinths
A company dedicated to producing and selling of high quality figures in a variety of scales for fantasy enthusiasts, collectors, sculptors and painters. The concepts are selected for their originality, excitement and to provide variety for the painter. "Michael Kontraros Collectibles" is also happy to hold regular Master Classes in the state of the art workshop, where anyone can learn to sculpt. With your enthusiasm and support, I look forward to continuing this wonderful and exciting journey.
A studio from Poland famous for their awesome range of miniature bases and quality comission paint jobs. Check out their website for more info. They are one of the sponsors for our Agram Arena Winter tournament.
The first beginnings of the website began in 2005, when Dejan Murko started his entrepreneurial career in the vicinity of Ljubljana and sold plastic models through online forums. In 2008, Tadej Began took over the online store. In 2010, the store moved to Celje, when it was taken over by Žiga Selčan and Matjaž Selič. In 2012, the online store became part of Miniatures d.o.o. Since its establishment, the company has been striving to bring together related hobbies and interest groups in the field of promoting creativity and technical culture.
MORH
Croatian Ministry of Defence
Mr Black Publications is a new company that will publish a series of Hobby Modelling and History books and magazines. In addition the company will sell books and magazines from other publishers, scale models kits and accessories and also Pro Built & Painted Models.
Although they started in 2015 with a single figure, Mr Lee's Minis have now grown to become a collection of artists working together to bring new and exciting figures and busts to the minaiture community. Ultimately they are a platform that allows artists to focus on what they do best; sculpting, painting, concept artwork; while an admin team works to help them produce, package, market, sell, distribute, and handle the day to day operations.
Nordlys Miniatures is a small Scandinavian miniature company, producing high quality miniatures for painters, modellers and collectors. Their general aim is to deliver sculpts and inspirational paintjobs that give you options and are fun to paint. And are also inspiring and inviting you to create your own version and story.
You will probably want to know why we have chosen the name Phlegyas for this project. Well, Phlegyas is a protagonist fromm Greek mythology, a ferryman of souls, the one who takes protagonists to the other part of the Stige, the infernal river. Like Phlegyas, we also transport our protagonists to a new and different dimension, to an imaginary reality, a new worls. We hope that you will fall in love with the stories of our protagonists int he same way as we did while realising them with great passion and pleasure.
Prvi dojam is an agency for web and graphical design from Zagreb, that offers a variety of services for small, medium and large businesses. Primary activity of the agency is design of high quality web pages. They turn their client's ideas in beautiful web pages with excellent user experience. Beside the design fo the web content, they make flyers, posters, business cards and other graphic products.
Zagreb Police Department
SavageForgedMinis is a website where you can find personal work and sculptures Dennis Zarnowski did for his range of models and customers. You can buy in the shop section bust´s and figures of the SavagForgedMinis colection.
"Between history and legend." SCALE 75 is the reflection of a particular philosophy in the world of modelling. A different image, a new concept in presenting figures with a clear aim to be a benchmark in both the national and international markets. It has become a part of the SCALE75 world where you can enjoy the great personalities, heroes, myths, legends, villains and warriors throughout history, created from the most revolutionary artistic concepts of modelling. Character, movement, detail, strength and epic are the distinguishing features of all our creations. We work with the best professionals and renowned artists in the world of modelling to give life to our characters. All our products are part of a careful process of creation, from the very conception of the idea, then reviewed by the best historians, modellers and painters to the quality and finish of the miniatures. Only in this way all of our characters will form a prominent part of your showcase. Delve into the different eras with our collections, discovering in them the highest-quality figures made of white metal at a 75mm scale and limited series. All ready to be assembled and painted by you. Dream about history and wake up with SCALE75.
Scibor Monstrous Miniatures company manufactures miniatures and bases for different kinds of war games, role playing games as well as for collectors
Scientificmodels is a small Italian company that produces and sells quality miniatures with a scientific theme and more. They offer services to museums, 3D printing and much more.
Secret Weapon Miniatures produces high quality, pressure cast resin bases for wargaming models and miniatures as well as a full line of weathering pigments, washes, conversion accessories, scenic kits and photo etched brass detailing sets.
Keep your eyes on the Secret Weapon blog, or join us on Facebook, for previews, product updates and special promotions.
Shieldwolf Miniatures(TM) is the largest and leading 28mm scale miniature manufacturer in Southeast Europe and in continuous growth. It is specialized in the Fantasy World it has set up and it is one of the very few companies worldwide producing groups of interchangeable/modular miniatures (regiments) in both hard plastic and resin. The range also includes or has planned for 54mm scale centerpiece collectibles, fantasy busts and terrain.
We are a new company from Slovenia and we're making laser cut MDF scenery for tabletop wargames. We're specialising in 28mm Sci-Fi terrain, but we want to do other genres and scales in the future as well. Our goal is to provide you, our fellow gamer, with good looking, affordable, easy to assemble, modular terrain for your miniatures to fight over and explore, because a good looking table can make all the difference in this beautiful hobby of ours!
Who we are
We are two friends who, back in 1997, started to create scenic pieces for our own gaming table. As time passed, our skills evolved and the projects became more and more complex and challenging. In 2007, having reached the high-quality level, we've decided to start production and casting of highly realistic terrain features in resin, suitable for wargames and static modeling.
Why Tabletop World
Because quality is our highest priority. When constructing models we always pay attention to the smallest details and want them to look as close to real life as possible. For instance that is why we actually build our stone walls stone by stone just like they did in medieval times. It may be very time consuming but it is worth the effort and the only way to really achieve the natural look of a stone wall.
Terrible Kids Stuff is an amateur project of miniatures's production made by S-Team under the supervision of Sergeant BlackArt. Our products are sold exclusively through our online store and during many events in which we will participate. The decision not to go through the distribution channels was taken to propose our products at limited prices, guaranteeing a constant and timely customer service.
Triglav Model is a trademark of resin model kits, which represent various products of Yugoslav military industry and vary in scale and materials. 'Triglav model' was established as a garage company with a vision to become a successful world-known brand.
Releasing products which makes our customers able to master scale modelling challenges as fast, easy and professional as possible, that is what our job is all about. Uschi´s products are based on my own experience as an award winning scale modeller. We never will release a product that doesn´t meet the requirements mentioned above.
Wamp is probably the friendliest miniature painting forum on the web. Its also one of the fastest growing and continually tries to improve the community through its projects. These range from tutorials, reviews, interviews and its forum to the Minipainting Wiki and Portal Magazine. The Wamp store was set up primarily as an avenue to support Wamp members and the products they produce, Many of these projects are very small and the store enables us to help promote their work to a bigger audience and in turn helping these projects grow and facilitate further work. The store contains products from companies and artists around the world under one roof. All the items for sale are ones we personally like and would buy ourselves. Our hope is that through the support of its customers we can grow the Wamp store and introduce even more quality products that enable us all to enjoy our hobby even more.
Wolf Design j.d.o.o. is a company founded in Zagreb in 2014. Our goal was wooden and plastic model design, primarily for tabletop games, airplane models and wooden accessories (business cards, bookmarks, etc.).
With a range that includes Fantasy and Sci-Fi, we hope that there will be something to spark the imagination of every miniature collector. We offer our services to companies and individuals. If you require Design, Sculpting, 3D Printing, Laser Cutting/ Engraving or Resin Casting; feel free to contact us to discuss your project. We are always happy to help and advise the best way that we can assist make your ideas reality. Zealot Miniatures can help you with all stages of model production. Design, 3D Printing, Casting and More. For more information or a quote, please do CONTACT US
Phone: +44 (0) 1258 454332
Business Hours: 9:00 – 6:00 M-F
Address: Zealot Miniatures, Down Road, Pimperne, Blandford Forum, DT11 8UP, UK
Zagreb Community of Technical Culture
Friends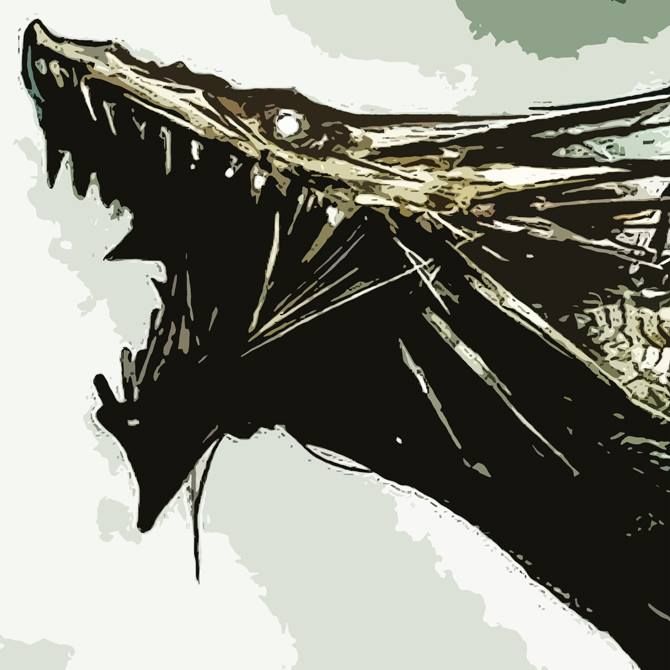 The association was founded to promote, the development and promotion of technical, modelling and general culture, and encourage creative and innovative work among children, youth and other citizens.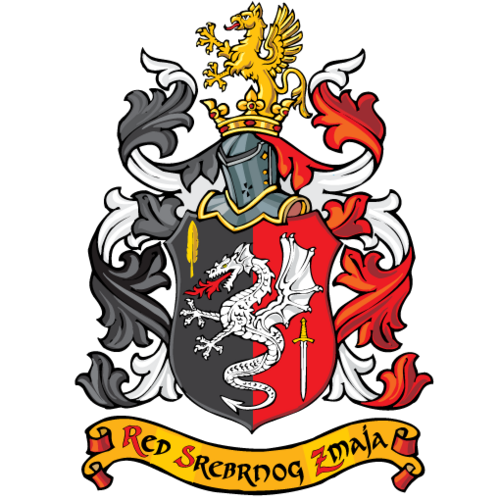 Warhammer society of Slovenia.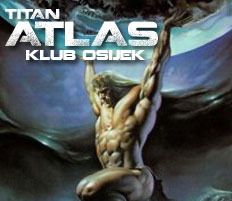 Titan Atlas Club Osijek is a group of people dedicated to sci-fi/fantasy literature, art and games.