How to build a display base for two WH Underworlds warbands
Jure Cukar, 15

th

November 2021
After painting two warbands for Warhammer Underworlds, I wanted to merge them into a diorama that would be nicer to expose than just a single warband, and at the same time, since they are active player models, allow them to take and return to that location without a problem. Therefore the base I will be working on at the same time is the display base - The Grymwatch vs Starblood Stalkers.
There was a large base from Bucomodelbases that I got as a prize at this year's Black Queen that I didn't know for a long time what content to fill it with and how to use and now it has proven to be perfect for this project. On it, I put together models and sketched what I wanted my scene to look like, and when I was satisfied, I started thinking about how to realize it.
First I sketched the model layout on paper. I also drew elevations that I thought would contribute to the dynamics of the scene itself.
The realization could go in hundreds of directions using a large selection of materials, and I eagerly set off with what I had at my disposal at the time.
I made the base level with styrofoam. I had slightly thicker styrofoam than I wanted so it needed to be thinned. With a knife, patiently.
Having the blueprint I knew where I needed to make the extra elevations. I also made them, very roughly, from styrofoam to begin with.
I made the edges of these hills out of cork. I drew a plan of the hill in cork and cut only that part of the rocky slope. I made a random stone effect with the pliers.
Then I drew the positions of the model and made holes with a scalpel. I filled the holes with a milliput to match the size of the base as accurately as possible. This process required patience and precision because I went back to measuring and filling a couple of times, and sometimes grinding because there were too many times.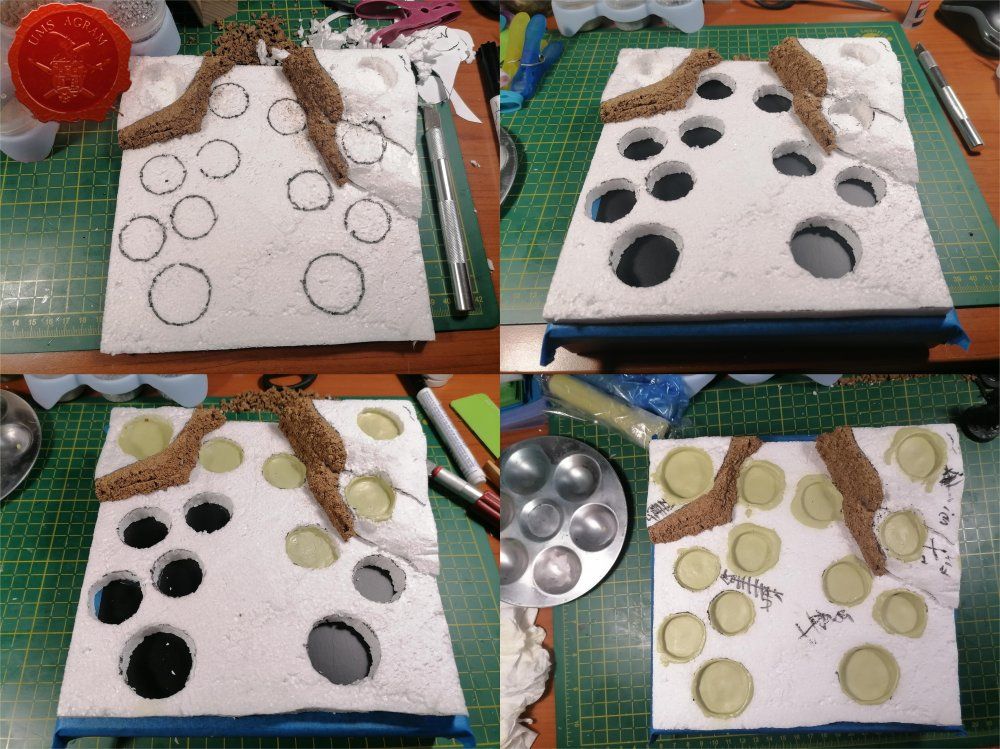 I filled the bases of all models with a milliput and placed a magnet approximately in the middle. The display base was also supposed to have a small magnet to hold the models. After it hardened a few times I marked roughly where the magnet was on the model when it was placed and drilled the place with a drill.
Models are set. What remains is to place the milliput on the slopes of the display base itself to cover the styrofoam and to get as smooth and clean an edge as possible.
Latest articles
Latest battle-reports
17

th

November 2021, GW - Warhammer 40.000, and Nino Marasović (Space Marines)
27

th

October 2021, GW - Warhammer 40.000, Borna Pleše (Space Marines) and Josip Strnad (Space Marines)
20

th

October 2021, GW - Warhammer 40.000, and Domagoj Krpan (Dark Eldar)