Painting 1/72 Swedish dragoons - Part two - painting riders and making bases
Dalibor Čavić, 17

th

January 2022
In the first part, I briefly explained who the dragoons were and how I painted their horses. In today's article, I will describe how I painted the dragoons themselves and how I arranged the bases.
Although it looks comical, and often very painful, this is the most practical way to paint 1/72 riders from my perspective. With a pin, I drill a 1mm hole in the rider's groin, and then insert a toothpick inside. I dip the other end of the toothpick into some old piece of styrofoam. This way I get a very practical holder and stand for painting and storing riders.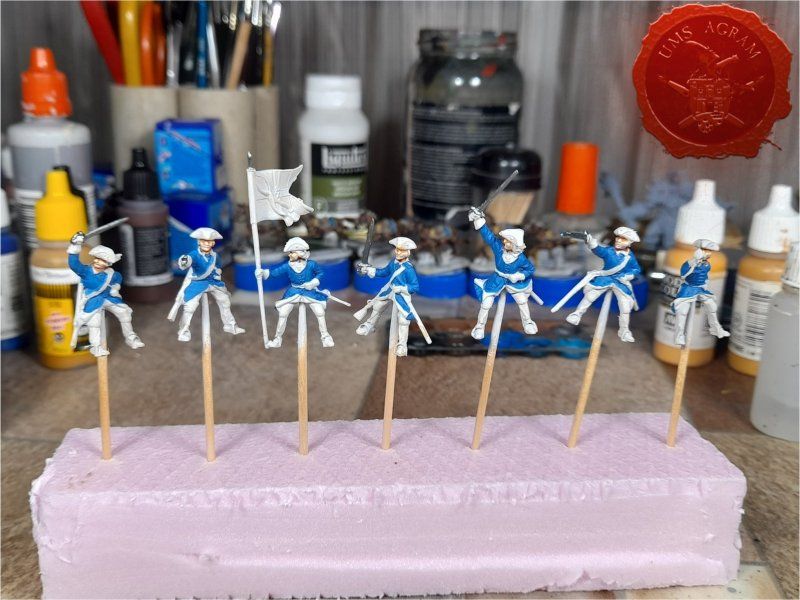 After priming, I paint the faces first. Basic skin color, Reikland Fleshshade and then highlights and blush-like effects as much as possible on this scale. Then I paint the dominant color of the uniform that I will be able to wash and black parts. In this case it's blue which I then washao Nuln Oil. After the Nuln Oil dried, I did the highlights on the blue divisibles and then devoted myself to the yellow. Yellow is one of the most difficult colors to paint. Some first paint the parts that need to be yellow in white and then in yellow. I opted for ocher on which I then built yellow highlites. The rest of the details went pretty "straight forward", some basic color and then highlights. Belts, swords, firearms, etc. For metal and wooden parts, I also used pre-highlight wash. In the end, I coated the figures with a layer of matte varnish.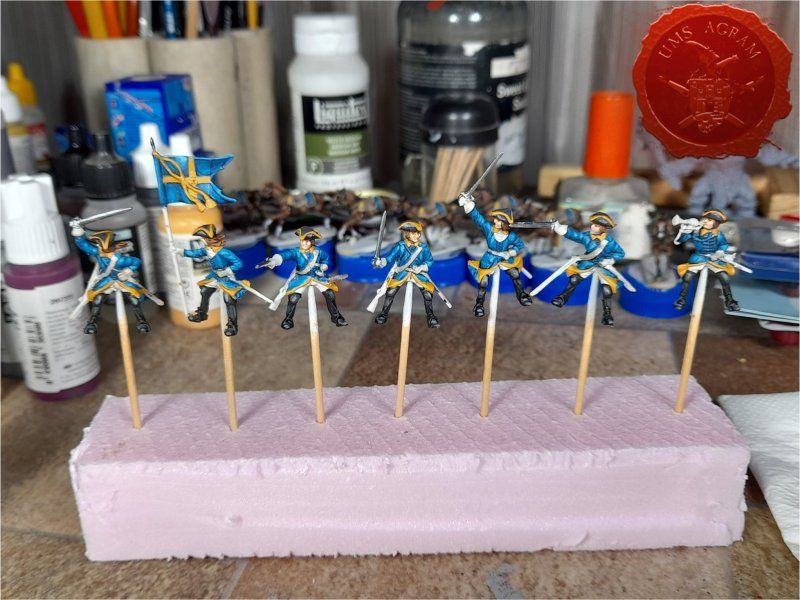 Then I set out to base the figures. For each horse figure, I cut a 2.5 x 5 cm HDF board (High Density Fibreboard - and some call it hardboard). After gluing the horse to the tiles, I went to disguise the plastic base with which the horse was originally cast. I could also cut off the plastic bases, but then I would have to pin the horse's feet in hardboard and it would lose on strength and stability. This is how I masked the plastic bases using Turned Earth Mud from Mig. I didn't have a plan for what the base looked like, but it was an adventure into the unknown. I definitely didn't like the Turned Earth Muda color so I washed the bases with Agrax Earthshade and drybrushao when the wash dried. Then I glued the vegetables I had on hand to the bases. Most of the tuffs I had as well as the flowers were a bit oversized for this scale, but in the end I am still happy with the result.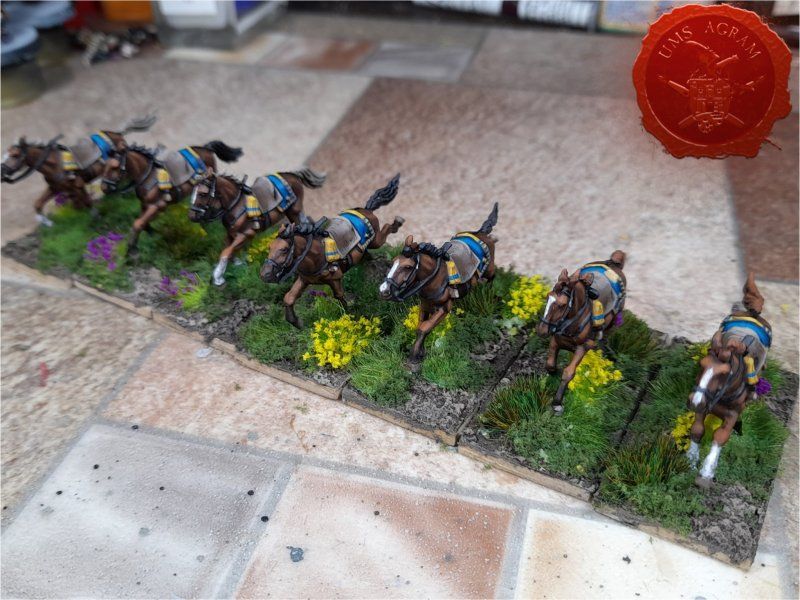 When it was all over, I painted the edges of the bases black and glued the dragoons to the horses.
Latest articles
Latest battle-reports