Black Annis bust – part 3
Marko Paunović, 13

th

April 2021
In this series of articles I will describe the work performed on a diorama whose main character is a bust called Black Annis. It is manufactured by a company called Massive Miniatures and I built the diorama for an Admin Challenge on our FB group Miniature Painters Croatia agains Ana Polanšćak.
In the last article, I stopped at the finished bits for the base frame and prepared three bottles. In this article I will describe how I made one bottle of "GW paint", one spilled bottle of "GW paint" and a glass of dirty water for cleaning brushes.
First I needed a design for a "medieval" inscription for GW paints. I made the design on a computer and printed it out on a laser printer. Since I wasn't sure what size of label I needed, I made both labels (Nuln Oil and Bloodletter) in several sizes.
Then I mixed in the resin. The resin I use most often is Gedeo Crystal Resin because it comes in a convenient, practical package, but also because it mixes in a 1: 2 volume ratio, which makes the job much easier.
When I had mixed the two components well (it becomes a dull color), I added a drop or two of black paint for glass (in my case Pebeo Vitrail) and mixed well again until I got a uniform mixture.
I then poured this mixture into a bottle of the would-be dirty water and carefully positioned the brush and let it dry. Then I added a little more black paint to the mixture (to get a more intense color for Nuln Oil). I first poured a little on the tabletop and used the resin to glue the overturned bottle into which I carefully poured the mixture of the resin to solidify but not leak out.
When teh resin was dry, I cut out the labels for the bottles and decided on the size.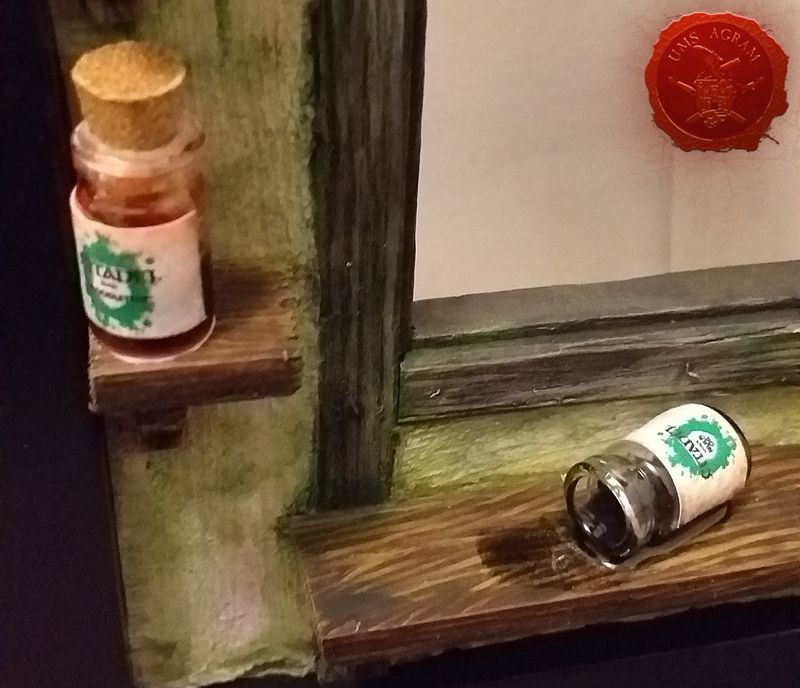 I coated them on the underside with a thin layer of PVA glue and glued so the inscription could be seen.
For the end I poured pure Tamiya Clear Red to half the height of the Bloodletter paint bottle. I then glued the cork stopper so that the paint would not leak. In this way, the color in the bottle is still liquid which is seen during the movement of the whole diorama.
Latest articles
Latest battle-reports