Magnetising a Harlequin
Domagoj Krpan, 12

nd

January 2022
Some time ago, rumors started about how the new rules for harlequin are coming out, and with that, the equipment they will be able to use will change. To make sure that space clowns could stay relevant no matter what shite happens in the rules, I decided to try magnetizing miniatures for the first time.
To try the magnetization without destroying the fresh model, I took the ebay rescue miniature which I got very conveniently. I like to do new things with older or cheaper models, so that I don't have to cry about the money and time spent or wasted. What we need for magnetization is a model, more precisely a torso and a limb that we want to magnetize, a magnet of the appropriate dimensions and a hand drill with which we will use a drill of the appropriate dimensions. The magnets I prepared for the harlequins are 2mm in diameter, so I also prepared a 2 mm drill bit.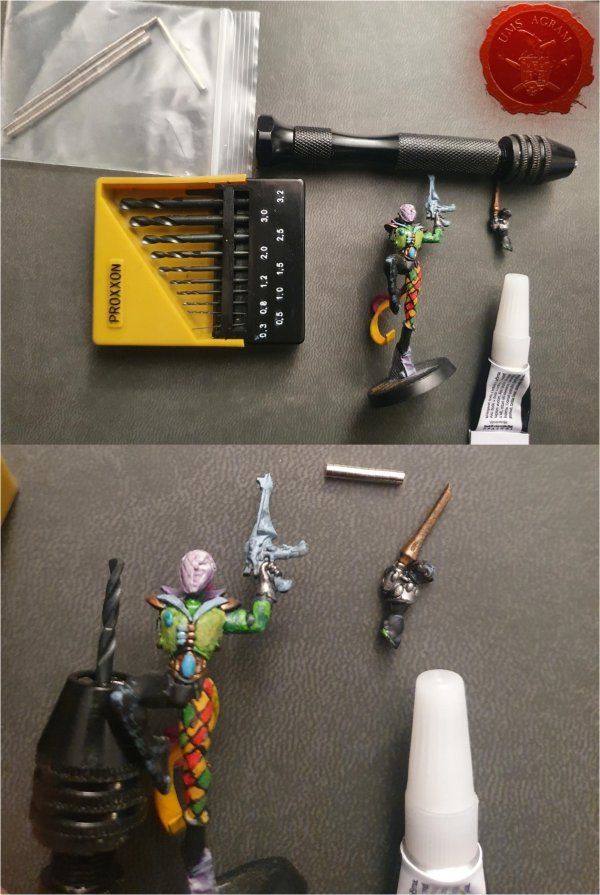 Once we have prepared everything we can start having fun. I would recommend that smaller and more delicate models such as the harlequin be hand-made first, as they have less material, and allow less room for error. The torso is relatively easy to do, the body has enough width and depth that it is difficult to make cardinal mistakes. If, for example, we do not have enough space to "push" the whole magnet and hide it in our hand, we have space to place the magnet "deeper" in the torso to compensate. The hands should definitely go slowly so as not to remove too much material.
Once we have made enough grooves with the drill to accommodate the magnets, it is time to fasten them inside the model. For the purposes of this step, I used super glue in combination with a plain, wooden toothpick. With a toothpick, I would transfer a drop of super glue into the groove I made, so that I would have super glue on as small a surface as possible and so that the application of the adhesive would be as precise as possible. This step was essential to me to ensure that only the magnet sticks and to avoid any excess glue on unwanted surfaces.
I let the glue dry for a few minutes and tried to put my hand back in the harlequin's shoulder. I am satisfied with the result, and now that I am assembling new miniatures, I know how to prepare them to be more versatile and adaptable to changes in the rules.
Latest articles
Latest battle-reports